Welcome to week 4 of our
Special Christmas Soiree!!
Time to reveal our Christmas trees!!
I'm giddy to share mine! This is the first time I've gotten to use my white tree. The last 2 years, due to having Lil' Hunkie, I opted to do a small tree. So this year, even though Lil' Hunkie has been taking ornaments off the tree, I'm still very excited to have it up!
I saw some tips on taking photos of your tree at night with a DSLR at
Lil Blue Boo
, well I don't have one of those and went through the tips with the camera I do have and here's what I got...
I must say a white tree sure does 'glow' more than a regular tree!!
When I was single I decorated a spiral tree(which I still have) with orange and silver. Then when I got married I bought all new red and black and added the silver in. I'm lovin' the red/black/silver on a white tree!!
Here's some shots during the day...
Remember my shopping trip to the Dayspring Warehouse Outlet sale? Well I bought these next three ornaments for $2 each! I was so tickled to get them!
I have a lot of special ornaments too...don't we all? In case you missed it this was one I got to add over the weekend...
Ok enough about me and my tree!! I want to see yours!!
And remember you can also link up your Christmas crafts, Holiday recipes, and how you capture Christmas!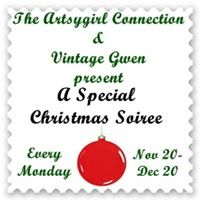 Happy Monday!!