Although you probably know her already as she has fantastic blog!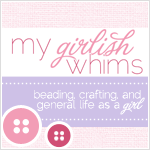 Rebecca has a lot of fun stuff going on in her life right now...soon to be a college graduate, a bride, and a new homeowner! Her blog has been fun to read as she's been preparing for these milestones. She also is a fabulous jewelry maker with an
Etsy shop.
Here's at look at Becca...
Jewelry Making Lessons
Great series going on now!
Love these little guys!!
Sometimes she shares yummy recipes! This sounds good to me...I really need to try it!
And she has one of the best link parties around!
Go check her out!
Thanks Rebecca for your friendship and sponsorship!!