I have a wonderful Etsy shop to showcase today!!
Rebecca makes some pretty jewelry! Her motto is to provide handmade accessories to fulfill every girl's girlish whims!! And I don't know about you but my girlish whims need attention sometimes!! Here are some of my favs...perfect at getting the job done!
White Flower and Pearl Necklace $21
Flower Rings $6 each. So stinkin cute!!
The Jessica Earrings $12
The Addison Earrings $10.95
Sheet Music Charm Necklace $12.50 This, in my opinion, is beautiful!!
Rebecca also has a fabulous blog...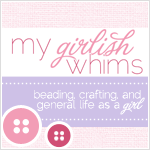 This young lady is very talented!! And she just got engaged....congrats girlie!!
Make sure you visit both places!!!
Photos/graphics courtesy of Your Girlish Whims.
Happy I ♥ Etsy Day!!
P.S. Have you entered the Necklace Redo Giveaway?