A recent blog I found through a link party has inspired some beauty Darlings today!
B. jane brewing
has been doing some
Hot Mama Makeovers
that have been gorgeous!!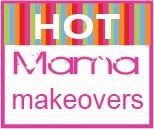 This one is my fav!!
Photo courtesy of
B.jane brewing
♥
This is a page out of May's Allure magazine. I ripped it out because 1. I think it's a beautiful look and 2. I really, really want that lipstick! I wear purples a lot....probably why I ♥ it!
Photo courtesy of my May issue!
Here is what is used for this look: HIP Bright Shadow Duo in Reckless, True Match Super-Blendable Blush in Spiced Plum, and Infallible Le Rouge in Perennial Pink by L'Oreal Paris. I might have to have it all! ☺
♥
I'm hearing more and more not to spend $$$ on mascara, that basically it's all the same. I love to treat myself to Lancome mascara but haven't in a while so I usually buy L'Oreal. Well just out of the blue I decided to try this......
.....and I really like it! And am saving a few $$!
(Fyi..this won Allure's Reader's Choice Awards Best Drugstore, Discount Mascara!)
♥
And finally...I'm hoping to beautify my feet with these in the near future......

......aren't they so cute?! There's blue too!
♥
Happy Darling Day!!