Very low entries for the 150 'Fall'ower Giveaway!! Are you going to do some baking this fall?
Check it out
HERE!!
I'm going out on a small limb here and showing you some of my favorite 'fashion' pins recently. I say going out on a small limb because I've been thinking of adding some fashion content to my blog. Not sure yet exactly what but I like fashion....I do have a degree in apparel merchandising! But I"m going to be honest...I'm hiding behind the computer. Yep I am.
Ashley's writing
has got me thinking about a lot of stuff and some good blog advice is to just be yourself. Well the real me likes fashion.
So I'm not sure, but I'm doing a lot of thinking.....
Would fashion content even fit?
Hhhmmm....
♥
I'm loving purple for the fall!
♥
I love this!! It's tough and dainty at the same time!! I really want to try and make it!
(I tried finding the direct link for this and couldn't, think it must have been sold out...)
♥
When I'm done having babies, I must have this!!
(Again I tried to find the direct link to this and couldn't!!)
♥
I love this from neck to toes!!
♥
This is so fun! And I would wear everything! Now that I think about it, this is a fun date outfit!! Change out the shoes for flats and it's a stylish mom outfit!!
Photos courtesy of
Pinterest
and their respective sites.
I'll be broadening my blog borders here: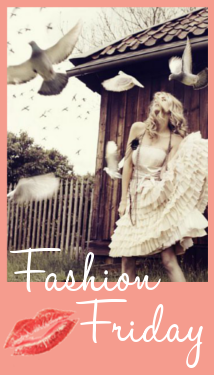 Happy Friday!!