Had a birthday party to attend over the weekend. (Happy 40th Birthday Kim!) My friend has been counting her calories and doing great so I wanted to do some portion control! I hope to not disappoint anyone but I used what I had in the cabinet....this was really more about presentation!
I started with a small yellow cake mix, it makes 12 regular size cupcakes. And my Babycakes maker!
Scooped in 2 mini ice cream spoonfuls. It made 22 mini cupcakes.
Once cooled, due to the size of my glass, I cut the edge off...leaving the middle. Then I cut in half and layered with chocolate frosting and topped with sprinkles in a votive size glass.
Then I wanted to tie a small wooden spoon around the glass with ribbon but it just wasn't working out.
So I did this instead........
Pretty cute!
(Got the spoons at Hobby Lobby.)
Now this was my first time to make these and of course when making something for the first time you don't know quite what to expect....especially when you have a 15 month old who does this......
...there went his snack!!
Hope this inspires you to make your own little bite!
Linking to: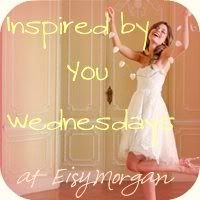 Eisy Morgan-Inspired by YOU Wednesday
Someday Crafts
The Saturday Morning Blog-Strut Your Stuff