Remember my Valentine post that included the chalkboard trays? Well I thought I'd show how I made them and show how it can be changed out seasonally.
Trays were a $1 at the Dollar Tree.
Step 1: cover edges using tape and paper.
Step 2: Spray with chalkboard paint. I sprayed it twice letting it dry for 24 hours in between and then 24 hours before I continued.
Step 3: Paint the edge. I used metallic pink and metallic bright red for these.
Step 4: Make fabric flowers. I've viewed a few different tutorials in blog land on how to do this. Start with a strip of fabric...the longer and wider the bigger the flower. Put a knot in one end and roll around knot, folding and rolling. I use needle and thread and make stitches as I go. But you could use fabric glue as well.
Step 5: cut out felt circles and hot glue to the back of each flower. ( I used felt I had on hand thus the color difference.)
Step 6: hot glue magnets to back of felt circles. Place on corner of tray.
Wallah!!!
After telling my sister about this she had the idea to make different color flowers for the seasons. So I painted the square tray red for her and added some spring flowers. We'll do fall and Christmas as well!
( I wrote this when there was about 20 inches of snow on the ground!)
Enjoy!!
Linking Up!!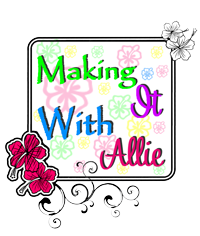 Someday Crafts