Day 2 party girl is the awesome Rebecca of My Girlish Whims! She makes awesome jewelry and you should really check out not only her blog but her Etsy shop too!
Hello Vintage Gwen Readers! I'm Rebecca
and I blog over at
My Girlish Whims
, a blog all about beading, crafting, and general life as a girl!!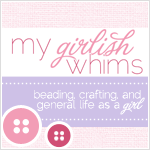 For my *FAVORITE* things item, I knew I had to pick something crafty. I was stuck for awhile trying to think of something...and then it hit me...FELT SQUARES!!!
Seriously, felt HAS to be one of my favorite craft supplies. Why?
1. It's Cheap
2. It's Colorful
3. It's Versatile!
You can make SO many different things with felt.
Here's a quick peek at some of my favorite felt projects!
Valentines Day Felt Embroidery
Felt Necklace
I know Jennifer has picked out some
PRETTY
felt sheets for one of you! I'm sure you'd have no problem coming up with a project for it...hooray for felt!
How about those awesome felt projects? I love working with felt too and had the best time picking some for the prize pile!
(16 pieces of felt here!)
I've done some thinking and I'll be sharing a sneak peak of the prize pile on Instagram so be on the look out!
Now get to entering!
a Rafflecopter giveaway
Schedule and Links: