Let's face it, we all love Italian food. But we all know it can sometimes be very high in calories, fat, and carbs. I have a great go to recipe for Parmesan Chicken that is a regular in our dinner rotation. I promise the small amount of prep work is worth it!
Skinny Chicken Parmesan
serves 4 (one chicken breast each, 225 calories)
2 (8 oz) chicken breasts, sliced in half (horizontally, or butterflied but cut all the way through. You will end up with 4 pieces of chicken)
3/4 cup seasoned breadcrumbs
1/2 teaspoon garlic powder
1/2 teaspoon Italian seasonings (I don't necessarily like a lot of Italian seasoning, so add more if you like it!)
1/4 cup grated Parmesan cheese (This does not have to be fresh. In fact a use the stuff in the green bottle more times than not)
1 1/2-2 tbsp butter, melted
3/4 cup reduced fat mozzarella cheese
1 cup marinara or your favorite spaghetti sauce
Preheat
oven to 450°. Line large baking sheet with foil (easy clean up) and spray lightly with cooking spray.
Combine
breadcrumbs,
Parmesan
cheese, garlic powder, and Italian seasonings in a bowl.
Melt
the butter in the microwave in another bowl (this is usually melted after about 20 seconds, so watch it closely.) Lightly
brush
the butter onto the chicken, then
dip
into breadcrumb/cheese mixture.
Place
on baking sheet and
repeat
with the remaining 3 pieces of chicken.
Lightly
spray
a little more cooking spray on top (this makes it nice and crispy) and
bake
in the oven for 20 minutes. Remove chicken from oven and turn over. Spoon sauce over each piece and top with mozzarella cheese and
bake
another 5 minutes or until cheese is melted.
I like to serve this on a bed of whole grain spaghetti tossed in additional spaghetti sauce. You can also enjoy it with a side salad or veggies.
♦
Also, have you heard about the upcoming
Find Some Love Fest
? Grab the button and meet back here February 1st!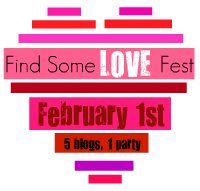 ♦
Didn't that sound yum!? I love Italian! Allison is an awesome cook and baker! I've enjoyed getting to know her and co host our monthly Birchbox Beauty Bash with her...it's so fun!! Tomorrow is our 2nd party so check it out and make sure and join in on her
Love Fest
!
Happy Thursday!!