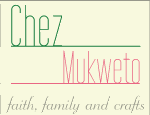 Jacqueline of Chez Mukweto is my 4th November Sponsor.
We actually connected through The Artsygirl Connection's Pink Project. I find Jacqueline to be very sweet and talented! Chez Mukweto is a place for her
"to share

resources and ideas that have made my sewing,crafting,

mothering, cooking, marriage etc better, easier or more enjoyable."
Just look at her crocheting skills!
Custom Order
This is beautiful!!
♦
And she shares some tasty recipes too!
Simple Summer Sandwich
♦
Of course she has an
Etsy shop
too!
You should go show her some love!!
Thanks for your sponsorship Jacqueline!